Vacation Bible School
Vacation Bible School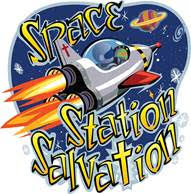 This year Christ Lutheran Church will be holding its Vacation Bible School from
July 23 through July 27
at Samuel Lutheran School from 9:00 – 11:30 am. We are looking forward to an enjoyable and spiritually worthwhile week. We hope your child(ren) will be able to join us! Bible stories, singing, crafts, and snacks following the theme, Space Station Salvation, will fill each day.
All children ages 4 years through those entering 6
th
grade are invited to attend.
For those enrolled in the summer ECC program, this week will be a part of the ECC activities. As it was last year, children will not be checked out during this time but will continue to be under the supervision of the ECC program.
Please still fill out a registration form if your child is in ECC.
Click here
for online registration!
If you have any questions about VBS, you may call the Church/School office at 507-532-2162.